Tidal has been riding an encouraging wave of momentum since its celebrity-studded re-launch back in March 2015 – not least because, five years ago, it became the first service to offer hi-res audio streaming thanks to its adoption of MQA technology.
These hi-res (typically 24-bit/96kHz) tracks, which it calls 'Tidal Masters', initially numbered in the tens of thousands but now make up a catalogue in the millions – all available to subscribers of its £19.99 ($19.99, AU$23.99) per month Tidal HiFi Plus package.
Today, Tidal is far from the only hi-res player in the music streaming game, with Qobuz, Amazon Music HD and Apple Music also offering better-than-CD streams – and at lower monthly fees. (Spotify HiFi bringing CD-quality sometime in the future is only going to intensify the competition too.) So, is Tidal still number one?
Price
In November, Tidal responded to the competition's moves earlier in the year to undercut it and offer hi-res streaming for considerably less – and it did so by changing its tier and pricing structure.
In the US? Luck you. US customers can now take advantage of the service's first-ever free plan, called (unsurprisingly) 'Tidal Free', which offers streams of the complete library of 80 million tracks at 160kbps with "limited interruptions".
For everyone else, a fee is still involved but you are paying for better quality. The 'Tidal Premium' tier that offered 320kbps quality has now been rebranded as 'Tidal HiFi' and gets you audio at up to 1411kbps (i.e. CD quality) as well as offline capabilities and access to features such as Tidal Connect for £9.99/ $9.99 / AU$11.99 per month. Tidal's basic 'Family Tier' has also seen the same increase in standard bit-rate streams but lets six people take advantage of it for £14.99 / $14.99 / AU$17.99 per month.
The top tier, formerly 'Tidal HiFi', is now known as 'Tidal HiFi Plus' and remains £19.99 ($19.99, AU$23.99) per month. It brings audio quality up to 9216kbps (i.e. hi-res) by supporting Tidal Masters via Master Quality Authenticated (MQA) technology. It is also the tier you have to subscribe to in order to listen to immersive music in Dolby Atmos Music and Sony 360 Audio. A family subscription – again, for up to six people – costs £29.99 / $29.99 / AU$35.99.
To incentivise current subscribers and new listeners to go HiFi Plus, Tidal has also introduced initiatives designed to appeal to music fans who are concerned about how their subscription cost is divided up, by providing artists with payments that directly represent each user's listening habit. 'Direct-to-artist' payments now distribute up to 10 per cent of a HiFi Plus subscription to the artists that subscriber listens to the most each month, in addition to standard streaming royalties.
This new subscription model puts Tidal's CD-quality offering in line with the competition from Amazon and Apple, although its hi-res streaming remains at a price premium that might put some people off. That said, Tidal has ensured its HiFi Plus tier has extra appeal for melomaniacs and, besides, will no doubt still appeal to those with MQA-supporting hardware.
Features
As well as being accessible via its PC and Mac desktop apps, web player (HiFi subscribers will need Chrome or Firefox for lossless sound) and Android and iOS mobile apps, Tidal has also expanded into Apple and Android TV apps and Apple CarPlay.
Tidal apps also form part of several networked hi-fi products' offerings, from Sonos, Bluesound and DTS Play-Fi platforms to Linn, McIntosh, Naim and Cyrus streaming products. Google Chromecast supports Tidal too, while Tidal Connect – a similar concept to Spotify Connect – also allows for easy streaming to compatible products from within the native Tidal app. For Tidal HiFi Plus subscribers, Tidal Connect can also (uniquely) cast MQA/Tidal Masters and Dolby Atmos Music files.
The hi-res Tidal Masters can also be played via the service's desktop, Android and iOS applications, as well as being supported by a number of those aforementioned hi-fi components (either natively or via Tidal Connect) as well as software platforms like Roon.
There are a few complications, however. As the Tidal desktop app is an 'MQA Core Decoder', it can only 'unfold' the Masters MQA file once and output is 'limited' to 24-bit/96kHz. So, if you're listening through a computer, via its 3.5mm headphone output or through a connected (non-MQA-enabled) DAC, the maximum output will always be 96kHz – even if you're streaming a 192kHz file.
Similarly, the iOS and Android apps can only complete the first 'unfold' of MQA file decoding, outputting streams at a maximum of 96kHz. The only way to entirely unpackage an MQA file for playback, and therefore give you the most accurate representation of the file, is to, a) use an 'MQA Full Decoder' product (such as the Bluesound Node streamer or Cambridge Audio DacMagic 200M DAC) that can unfold the file entirely, or b) use a combination of an 'MQA Core Decoder' and 'MQA Renderer' (for example, a Tidal desktop app and AudioQuest DragonFly Cobalt DAC) so that the former can perform the first unfold and the latter can unfold the rest.
The benefit of owning kit with full MQA decoders built-in is that all decoding is done by the hardware (bypassing the app altogether), which can unpackage the entire MQA file for playback in its original resolution.
In addition to offering a competitive number of songs well into the millions, Tidal (like Amazon Music Unlimited) also boasts a growing catalogue of Dolby Atmos Music tracks. Available to Tidal HiFi Plus subscribers, these immersive audio tracks can be played through headphones connected to an Atmos-compatible phone and tablet, or – to truly take advantage of the surround sound effect – an Atmos-enabled TV, soundbar or AVR connected to a compatible streamer running the most recently updated Tidal app. These supported streamers include the Apple TV 4K, Amazon Fire TV Stick 4K, Fire TV Cube (1st and 2nd gens), Fire TV Stick (3rd gen), Nvidia Shield TV and Nvidia Shield TV Pro (2019 or newer). Some Android TVs from Sony and Philips also natively support Dolby Atmos Music on Tidal.
Tidal's Android and iOS apps also support Sony's 360 Reality Audio immersive audio format, with a growing number of tracks from Sony Music Entertainment, Universal Music Group and Warner Music Group available on the streaming service.
Ease of use
Hardware with built-in MQA decoders is also helpful to identify a Masters file's resolution, since it can display a stream's sampling rate. Without it, the resolution remains a mystery. We highlighted this when we first reviewed Tidal Masters and unfortunately it remains an issue.
We also originally noted that Masters tracks and albums (all marked with an 'M' logo) could be hard to find, but Tidal has worked to make this much less of a sore spot by offering a growing number of Masters playlists and increasing discovery of these hi-res streams. The Masters home page in the 'Explore' tab is a good place to start. Or you can type 'Masters' into the search bar, filter by 'playlist' and see curated selections for pop, rock, hip-hop, R&B and even for more niche genres such as K-Pop and latin.
Masters-specific playlists expand past genres, too: there are now 'Tidal Masters: New Arrivals' and 'Tidal Masters: Essentials', genre-specific ('Tidal Masters: Motown') and artist-specific ('Tidal Masters: The Smiths') options, plus 'Master Edition' Artist Radio and Track Radio stations, which allow subscribers to listen to an uninterrupted stream of Tidal Masters tracks based on their listening habits.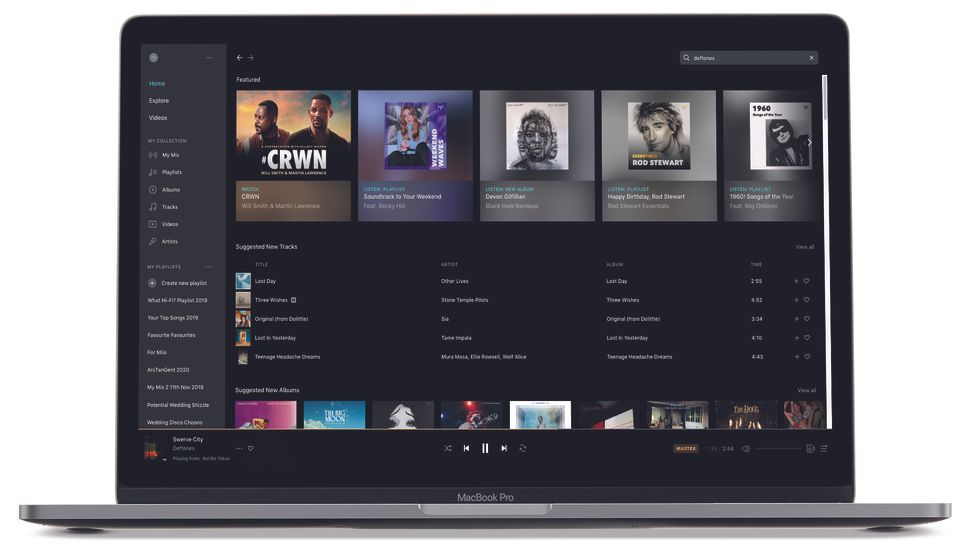 The streaming service's layout is exemplary, too. The desktop app's large number of tabs has been reduced to match the smartphone app, with the majority of content now grouped under the catch-all 'Home' tab.
At the top is a big and bold selection of featured content, while below that you'll find playlists created for you, based on your listening habits. 'Recently Played' allows you to quickly hop back into an album or playlist, while 'Suggested New Tracks' and 'Suggested New Albums' guides you to the latest new releases that Tidal's algorithms believe will be up your street.
Tidal appears to have taken a leaf out of Spotify's book by prioritising the discovery of new music tailored to your tastes, and it does so effectively. Just a few weeks of listening and favouriting is enough to start getting worthwhile recommendations.
Below these personalised sections in the Home tab, you'll find sections dedicated to the most popular playlists and albums on the service, as well as mood-based playlists, podcasts, radio stations, and the Tidal Rising section which helps promote new talent.
Away from 'Home', the two main tabs are 'Explore' (which duplicates many of the discovery elements of 'Home' but provides a broader canvas of categories you can dive into), and 'Videos' (which hosts, er, videos – music videos, videos interviews, short films and the like). The final tab is 'My Collection', which groups all of your favourited music and custom playlists and also houses your downloads.
Tidal has also partnered with Tune My Music and Soundiiz to offer two ways of importing playlists from other streaming services, meaning you needn't drag and drop everything again if you're migrating from one of its rivals.
Performance
Whether you're listening to CD-quality or hi-res streams, Tidal sounds great compared to its rivals.
Before Tidal upgraded its audio quality, we noted that its 320kbps streams just pip their Spotify and Deezer equivalents with a slightly richer, fuller-bodied sound. As you might expect, tracks streamed in CD quality offer much more detail, a better sense of space and a tighter handle on timing than their 320kbps counterparts.
In America's Sister Golden Hair, the catchy guitar chords are fuller and ring truer with more twang. Harmonies sound like they're being sung with greater enthusiasm, and the bells underneath are less hollow-sounding.
Masters tracks increase the level of insight again, prizing open the soundstage and giving the bare acoustic strumming in Christopher Stapleton's A Simple Song greater freedom of movement. It digs up more inflections in the accompanying vocals, too.
Play the Masters version of Dear Life by Beck and the piano-led rhythm is executed more precisely than the CD-quality version. And that organisation and punctuality put Tidal's Masters just ahead of the hi-res streams offered by rivals Qobuz and Amazon Music HD, which lack a little sonic cohesion in comparison.
Amazon Music HD does counter with an occasionally more open and detailed delivery, but it's the Tidal Masters that are most musical. Apple Music's ALAC (Apple Lossless Audio Codec) streams match Tidal for openness and subtlety and, actually, we noted how they can sound just a touch clearer.
Verdict
Where Tidal Masters were once a niche sub-section of the service's offering, the hi-res catalogue is now much bigger and much easier to take advantage of thanks to broader device support, improved discovery features and the recent Tidal Connect feature.
The arrival of Amazon and Apple's hi-res offering, not to mention their half-the-price monthly fee, has no doubt been one of the reasons that led Team Tidal to rethink its tier and pricing structure (and for the better too).
Right now, we believe Apple Music is the most attractive and best-value hi-res streaming service out there... for Apple device owners. But for everyone else looking for superior music streams – especially those with MQA and Tidal Connect-supporting gear – Tidal is still the service we can most heartily recommend.
SCORES
Performance 5
Features 5
Ease of use 5
MORE:
Everything we know about Spotify HiFi
Our pick of the best Tidal Masters albums
Hi-res music streaming services compared: which should you sign up for?